BUN DAU MAM TOM
(Vermicelli with Fried Tofu)
Have you ever wondered what to eat when first coming to Vietnam? Probably, popular dishes like Pho, Banh Mi or spring rolls, will pop up in your head but then you decide to get out of your comfort zone, looking for something new. Perhaps, friends, Bun Dau Mam Tom is the perfect dish for you. Fresh, new, authentic, tasty and not to mention, super healthy.
A colorful impression
Lots of vegetables with many different colors served, Bun Dau Mam Tom is one of the dishes that well represents Vietnamese cuisine – variety is the key. A funky, strange smell but not too overpowering mixing with the scent of fresh herbs can quickly stimulate the eaters' sense of smell.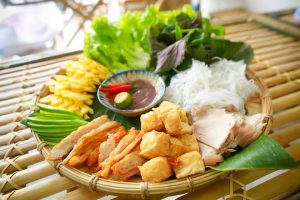 The combination of greens and meats
Bun Dau Mam Tom is typically served on a big round bamboo tray and a layer of banana leaf together with vermicelli, slices of pork, deep fried tofu, cucumber, fresh herbs such as oregano, perilla and basil, fermented shrimp paste. The dish is not only delicious but also good for your health. Though it is packed with load of greens, meat lovers can surely enjoy the dish as much as pro-veggies do.
The special fermented shrimp paste
Despite the freshness of the herbs, the tenderness of the pork, and the tofu's crunchy texture, the heart of Bun Dau Mam Tom lies in its fermented shrimp paste. Mixed with vinegar, sugar, lime juice, the paste makes it unique, separating itself from other dishes.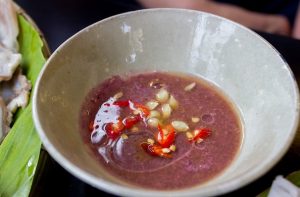 A northern dish that wins hearts of the southerners
Originally from the north of Vietnam, Bun Dau Mam Tom has gained a wide popularity throughout the country, especially and strangely, in Saigon. Nowadays, tourists can easily find the dish in many local restaurants in whichever city they are in.
How to eat Bun Dau Mam Tom?
There are several ways to eat this mouth-watering dish but typically, a slice of pork with a little vermicelli and herbs dipped into the paste. Anyway, the best way to eat is how you most enjoy it.
Where to eat Bun Dau Mam Tom?
Here are some suggestive eateries that serve Bun Dau Mam Tom in Saigon we find good that you can try:
1, Quan CO KHAN: 102/26 Cong Quynh, District 1
2, Quan TIEN HAI: 409, Nguyen Tri Phuong, District 10